DJI Phantom 3 ( Professional – 4K ) with 3 Batteries and Case & Much More Extra - Polokwane
Wednesday, 9 March 2016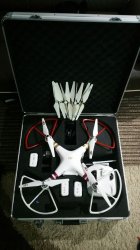 Contacts

kelly
Item description
DJI Phantom 3 ( Professional – 4K Drone ) with 3 Batteries and Case

Like A Brand New DJI phantom 3 Professional – 4K with 4 new batteries worth £350 with the official hard-shell protective DJI phantom case which holds all of the equipment. See Pictures and also come with 2 set off PROP GUARDS and comes with the 4 sets of propellers Upgrade to 32Gb Memory Card As well

The case you are getting with it you don't have to take of the propellers and PROP GUARDS that stays in case worth £250

I purchased this 4 Months ago

Please come and check it over, if you are really serious about buying it with all the extras then you may also fly the device in a safe open area near to mine to check it all works correctly and meets your satisfaction. I also have the recounts for the items to prove where and when they were bought. The drone also comes with a 8 month DJI warranty.