DJI Phantom 3 Pro quadcopter - Polokwane
Saturday, 12 March 2016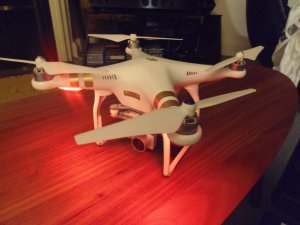 Contacts

kelly
Item description


DJI PHANTOM PRO model quadcopter with 4K digital movie camera or 12mp still shots.

Full product spec is available at the DJI website, Gumtree would not allow me to put the link here for free.

This just over a month old with just over 1hrs flight time logged,
Includes everything that came in the box plus the following items.

1 x additional flight battery
1 x gimbal protector(offers a degree of protection to the camera during the event of a heavy landing)
1 x DJI Transmitter neck strap
1 x 16gb iPad mini 4, to use the DJI Flight app and POV flight controls (point of view)
1 x German built and designed B/W IP67 flight case with factory cut foam insert for the Phantom 3 pro
1x DJI full set of spare carbon props( to be delivered)
1 x 64gb class 10 100mbps high end micro SD card for 12mp stills and 4K video (original supplied micro SD(16bg) currently has latest DJI firmware installed upon it (aircraft updated/batteries updated with latest firmware

close to £2000 spent on this, main reason for sale or swap is a general lack of time and concerns with regards to expensive crashes due to pilot error are putting me off a little.

This has everything that you'll need to fly, the 2x intelligent flight LiPo batteries depending upon weather conditions and how hard you fly the Phantom should provide between 40 to 60 minutes flight duration.