50kva perkins generator for sale at affordable price - Polokwane
Tuesday, 5 January 2016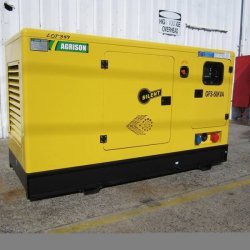 Contacts

Frank

(0)781996409
Item description
A Perkins powered 50kVA Generator set. The build quality and reliability of the Perkins engine in this generator set is superb. If you need a work horse, look no further!


Specifications

50kVA SUPER SILENT DIESEL GENERATING SET (1500rpm)

OUTPUT:

50kVA (40.0kW), 3ph / 400v
50kVA (40.0kW), 1ph / 230v

ENGINE:

Perkins 1103A-33TG1, 3 cylinder 3.3litre water cooled diesel
Electric start/stop with low oil pressure and high engine temperature shutdown
12v battery charge system
Battery isolator switch
500 hour service intervals.

ALTERNATOR:

50kVA ECO 32-1L/4 Mecc Alte single bearing brushless maintenance-free alternator with 3 Phase UVR6 automatic voltage regulator

CONTROL PANEL:

Deepsea 6110 Module includes backlit LCD display which clearly shows engine status
Push button start / stop, monitors engine speed, frequency, voltage, run hours, low oil pressure, high engine temperature, and charge fail, also displays the warning and shutdown status of the engine
Oil pressure/temperature & Fuel gauges, Battery isolator switch
Emergency stop switch
BS4343 industrial sockets individually circuit breaker protected 3 x 32a 230v , 1 x 32a & 1 x 63a 400v
ELCB/RCD protected 230v/400v sockets
Hard wire facility-230v
2 wire remote start connection as standard

FUEL TANK:

Bunded 350 litre base tank complete with 3 way valve giving 42hours use at 75% load

CANOPY:

Zintec Steel(corrosion resistant) panelled acoustic / weather-proof enclosure with large access doors for maintenance, Heavy duty slam locks and hinges
Lifting beam / eye and skid base with fork lift pockets

NOISE LEVEL:

63dBA @ 7 metres / 88LWA

SIZE:

L2450 x W1000 x H1490mm

WEIGHT:

1380kg dry, 1670kg wet. (skid base version).