Wholesale Farm Fresh Chicken Table Eggs Brown - Polokwane
Monday, 17 May 2021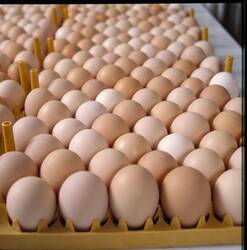 Contacts

Doons
Item description
An egg is one of nature's most perfectly balanced foods. Each egg contains 13 essential vitamins and minerals in varying amounts, high-quality protein, unsaturated fats and antioxidants, all for 70 calories. The Eggs offered by us are sourced from the best healthiest layer chicks which are managed by the highly experienced and professional farmers at their Poultry Farm.
• We export fresh white shell eggs & fresh brown shell eggs.
• The export capacity is about 5 to 10 containers per week.
• We supply the best quality eggs at the most competitive price.
• The eggs are cleaned and stamped with a quality seal and packed in pulp cardboard carton boxes.



EGG DETAILS
• Colour: White and Brown Eggs
• Size : 45-49gms / 50 – 55gms / 56-60gms

Size
Small, Medium, Big
Shell Colour
Chalky white colour & Medium brown shell
Features
Thick albumen, dark yellow yolk
Shell Type
Thick and smooth shell for the white and brown shell eggs
Free from
New castle diseases, Contagious diseases, Salmoneliza, Mycoplasma
Others
As per customer requirement, we do favour specifications for your need.