Cab Faby 2 Margarita / Granita / Slush Machine - Polokwane
Thursday, 23 November 2017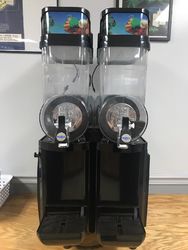 Contacts

Denis
Item description

Faby 2 bowl granita machines refurbished by our expert technitions fot guaranteed quality.
Buy With Confidence
As our name implies, we are one of the most knowledgable companies in the Specialty Restaurant Equipment fields of Espresso/Cappuccino, Granita, Pasta, Gelato, and Panini in

the country. We have been in business since 2005, serving the country.
After 12 years in business, you can rest assured that you are in good hands when you buy from us. You will find many products and services from our full range of business,

some new and some refurbished. No matter what the condition, all of our products are thoroughly inspected and tested before leaving our warehouse to ensure the best possible

quality when it reaches our customer. We go to great lengths to ensure our customers are satisfied.