Work-From-Home Data-Entry Training & Jobs - Polokwane
Tuesday, 4 October 2016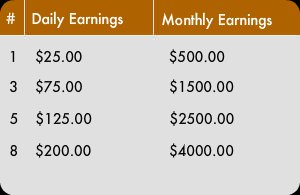 Contacts

sibongile
Item description
Data-Entry Transcriptionist

You will perform simple general transcribing services to thousands of individuals and companies directly from our program. We will give you the needed training, tools, resources, and even the transcription software. After the training is complete, you can do transcription of focus groups, meetings, and presentations to name a few of the types of jobs.


Earnings for Data Entry Transcribing


Get paid between $25 to $30 per hour on average. Also for completed assignments.

Pay chart below based on # of hours worked, at $25 per hour, and working five days a week. Many assignments will pay you an hour, but is completed in less time but you are still paid the hour.